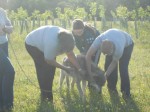 Our scouts love adventure; we combine this with activities for them to earn badges. We have walked with wolves, been on survival camp learning how to cook on open fires, night hikes, scuba diving, cycling and learning to maintain our bikes. We have also done our mechanics badge and IT skills badge.
We have also put on a show for our friends and family with comedy skits, we also got our leaders to dress up in drag! We 'encourage' our families to come with us each month for a family hike and we have used this training to take part in the Three Towers Hike.
We are active in our community and raise money for charities, we run stalls at the local fete, provide water stations for the May day run and have done a bed push for 'comic relief'. As well as adventure we like to relax and have fun, we have themed party at the end of each year. We tend to let the parents and leaders cook us a feast to celebrate together, this can be anything from a 'black tie' dinner to a 'onesie' party! .